Busty Petite Sex Doll
Hi, my dear. I am Leila. How are you today?
I am now taking a break from my work at the massage clinic. I am a massage therapist and I love what I am doing. It has always been a pleasure giving relief and pleasure to customers.
They always compliment me for my strength and sensitivity. Here at home, I love doing some household chores.
I think a woman who knows how to work on these chores is the sexiest kind of woman; she is able to take care of her man.
You see, I can be a pretty good wife material – I can look after your home and give you a good massage naked.
WM dolls only use new TPE and Silicone and they comply with product safety with the US and Europe. Your busty petite sex doll meets all these criteria (CE certificate and SGS available upon request).
Sex Doll Customization
Skeleton is fully functional and can move in any position. The head is screwed onto the body and can be changed or stored easily. (Below example of a skeleton without and with shrugging option)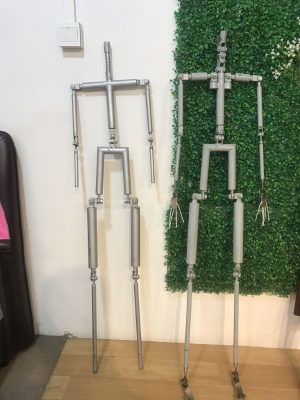 The standing option will allow the doll to stand by itself. Tutorial on how to find the balance point here.
Shoulder option will allow more movement on the upper body and the neck area is also
improved.
All WM Dolls sex dolls offer 3 ways, oral sex, anal sex, and vaginal sex. The vagina can be built-in or removable.
With a removable vagina, you will leave the space to use a penis insert (in option) to turn your doll into a Shemale.
140cm D cup TPE Sex Doll – WM Dolls
This photoshoot of busty petite sex doll features a setup of wig, heads, and eyes. It is possible to change any of them by customizing your doll.
You can change wigs, eyes after any time if you want to give a new look to your doll.
All measurements are in the description tab.
With D cup you can add the gel breast implants.
How to order your Busty Petite sex doll
Payment options and cancelation terms are on the tabs below.
You can order your busty petite love doll the same as photo shooting (no accessories, tattoos, or pubic hairs are included) or you can customize your doll by changing options one by one.
Once the order placed, we will contact you within 2 weeks with all the pictures according to your order. Make sure you can receive our emails.
At this step you will have time to change minor detail, if you want to change skin color, for example, it's possible but you will have to wait for another production for a new sex doll.
When everything is ok on your side and we have your « go » we will dispatch the doll and send you the tracking number within a few days.
During the production or the shipping, you can reach us at any time!
WM Dolls Certificate of Authenticity
All our WM Dolls come with a genuine certificate
More info for the WM Dolls Certificate